About Viki Hall Staffing LLC
Our Mission: Striving to create excellence through 5-Star, unparalleled service for our clients, and their guests.
Viki Hall Staffing, LLC specializes in providing skilled event personnel for special events in the Dallas, Fort Worth, Houston, and surrounding areas.  Our trained staff is capable of executing all types of events ranging from a six person dinner to a 10,000-guest reception. Whether it be a seated dinner, buffet or a cocktail reception, our experienced, engaging, and enthusiastic staff is hands on so you can be hands free.
Viki Hall Staffing LLC provides:

Highly Trained Staff

TABC Bartenders

Bar Backs

Door Greeters

Kitchen Assistants

Table Designers

Brand Ambassadors
Coat Check

Servers

Caterers

Hosts

More…
We have special relationships with many vendors and we can recommend some of the best in the industry. Most importantly, we provide you the peace of mind that your event will be successful because when you leave the staffing to us, we do all the work, and you get all the credit.
Precise Coordination, Extraordinary Results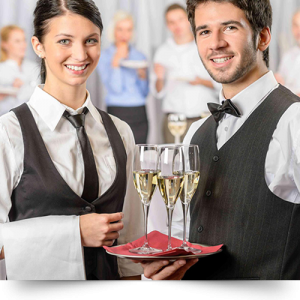 Over the past 20 years, we have hand-selected the qualified, trustworthy individuals that have made this company a success. We are the largest high-end staffing company in Texas for a reason! Our hand-picked staff is known for excellence and will be at their best and at your service – every time, delivering professional, energetic, attentive and dependable service.
We serve the staffing needs for hundreds of clients-including caterers, corporate settings, retail stores, celebrity chefs, private clients, and more.
Our mission at Viki Hall Staffing, LLC is for you to fully enjoy your event without the worry of having to do it yourself. We are hands on so you can be hands-free. When we leave, you will have enjoyed your event and have no mess to clean. We do all the work, and you get all the credit.
Some our satisfied clients include Neiman Marcus, Wolfgang Puck Catering, Pappa's Catering, City Kitchen, The Dallas Museum of Art, A Fare Extraordinaire, Gilley's/G-Texas, Swift + Company, The Fort Worth Zoo, Central Market, The Meyerson Symphony Center, The Winspear Opera House, & Food Glorious Food to name a few.
About Viki Hall
Viki Hall entered the catering industry in 1996 when she joined the team of Dani Special Events Catering. She worked as a special event manager at the Dallas Museum of Art as well as many off-premise events. She successfully managed everything from small intimate events to seated dinners for thousands of guest.
Viki worked under the culinary expertise of Chef Kent Rathbun until Dani was sold to Wynnwood Catering. The transition of companies led her to work with Chef David Holben.
Viki realized that great food had to have great service & discovered that Dallas was lacking in a specialized staffing service. Viki then founded her company which now has grown to a team of over 600 staff strong!
Thank you greatly!!!! Also, PLEASE PLEASE PLEASE tell your staff of how incredibly grateful we are of the amazing job they performed yesterday! It went as smoothly as it could have possibly gone, it was timed perfectly and we would have never achieved that without you and your staff. Thank you!!!!!
Just wanted to let you know Denise, the server you sent to work out party was tremendous. She helped in many ways as I finalize the food prep, she served all our guests graciously and even stayed to help clean up! She gets a gold 5 star rating from me!!

I hope you had a wonderful weekend! The staff on our wedding was top notch, it was so nice to work with Josh and Brittany again. Mary and Ryan were great too!
Your entire team was phenomenal! Every single person and we were all delighted by them! Helpful, attentive and kind. We cannot thank you enough, the bar staff rocked, it was just so pleasantly surprising to have all of you here!" Thanks for making us look good!! Props to Ryne, Gary, Remy, Joshua, Mariana, and Gerardo!"

Thank you, Matt. Your team always makes us shine in the eyes of our guests.
Wow, where do I start with the thank you? You and Song before the event, Abner at the event, you and other staff helping us load in the rain, Song driving everyone in the rain. I could go on. It was a tough night, but no one gave up and I really appreciate that. Please tell your staff thank you as well. Especially everyone that was there late night for the soaking. Thanks for always being there for us!!

Your staff is incredible. We had a fantastic event and I have NEVER worked with a more pleasant, skilled, efficient, resourceful, polite and initiative-taking crew. They were an absolute joy. Thank you so much.
Ryan – aka "Mario" – was fantastic! we loved him and would have him back again. our party was very successful and that is due, in part, to Ryan's fantastic service. All the guests would agree! GRAZIE TUTTI!